Alisal Experiences
Barbecue University® with Steven Raichlen
Steven Raichlen:
Barbecue University®

September 4-7, 2023
Welcome to Barbecue University®, the intensive three-day course named "the #1 cooking experience in America" by the Food Network.
Your instructor is Steven Raichlen, a Barbecue Hall of Famer, award-winning, bestselling author, and host of the popular Planet Barbecue ®, Project Fire, and Project Smoke TV shows on American Public Television.
Raichlen has trained thousands of students of all skill levels in the art of live-fire cooking. Attendees have come from as far away as Dubai, Australia, and Hong Kong.  Many of our students return year after year.   The intensive three-day course takes place at the majestic Alisal Ranch from September 4-7.
At Barbecue University® students learn not just by watching, but by doing.  Each class begins with a demonstration covering the day's dishes and essential techniques.   Then students divide into teams to do the actual cooking on our state-of-the-art collection of grills and smokers.
"A fantasy camp for coal heads" is how Cooking Light magazine described the school.
This is a hands-on class, designed to help students gain practical experience and perfect their grilling and barbecuing skills.   Best of all, you get to enjoy the fruits of your labors at a festive lunch served with local wines from the Santa Ynez Valley.
"I have attended cooking classes and retreats throughout the U.S. and Europe, but have never experienced anything like Barbecue University®," wrote travel writer and author Larry Olmsted on Forbes.com.
The nightly rate for the event includes breakfast, lunch, and dinner, as well as all of the Barbecue University® classes and demonstrations.  After a morning on the grill, we invite you to explore all the Alisal Ranch and the Santa Ynez Valley have to offer. Horseback ride on trails spanning over our 10,000 acre ranch, golf at our championship courses, or throw a line out on our private lake for bass fishing.
This comprehensive course provides participants with the knowledge and skills needed to become true grill masters.  With Steven Raichlen's expert guidance and the beautiful surroundings of Alisal Ranch, it's sure to be an unforgettable experience for all participants.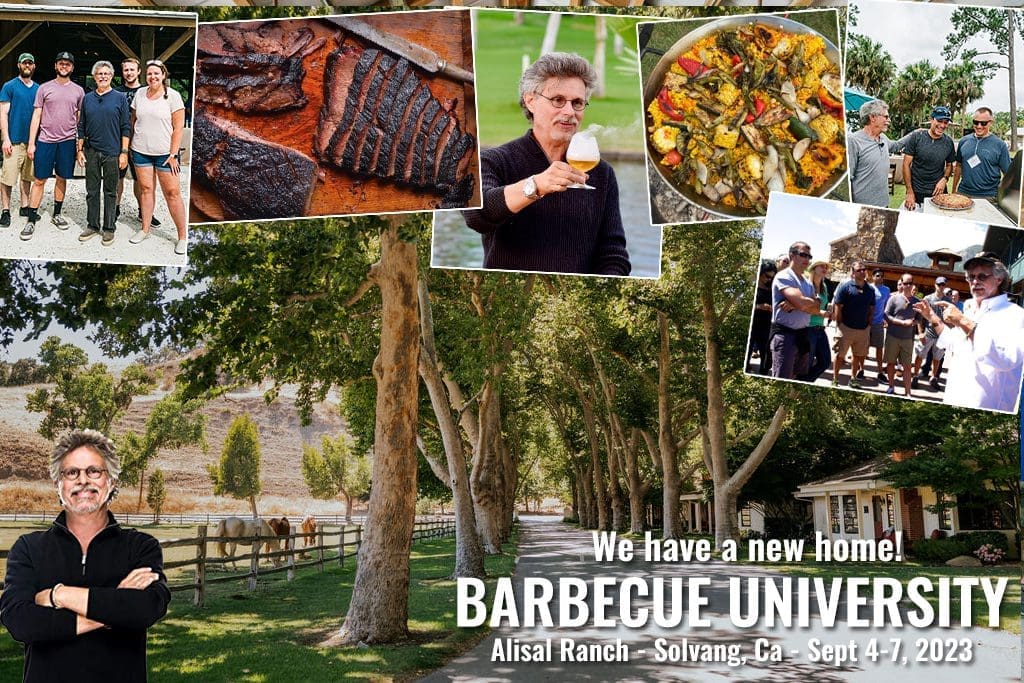 This Experience Includes:
Accommodations for 3-nights
All meals – Breakfast, Lunch, & Dinner
A selection of alcoholic & non-alcoholic beverages at our bars & restaurants
Three hands-on classes with renowned grilling authority Steven Raichlen, with sumptuous student-coooked meals to follow.
Limited availability. Plus tax and service charges.
Meet Steven Raichlen
Author, journalist, lecturer, and TV host, Steven Raichlen is the man who launched the barbecue revolution.  His 32 books include the international blockbusters The Barbecue Bible and How to Grill and the New York Times bestselling Planet Barbecue and Project Smoke (Workman Publishing).   His latest book, How to Grill Vegetables, focuses on global plant-based grilling.   Raichlen's books (more than 6 million copies in print) have won five James Beard Awards and three IACP Julia Child Awards and have been translated into 17 languages.
Steven Raichlen hosts the popular Public Television show: Project Fire, Project Smoke, and the new Planet Barbecue®.   He also stars in several French-language TV shows, including Le Maître du Grill, and an Italian show: Steven Raichlen Grills Italy.  An award-winning journalist, Raichlen writes regularly for The New York Times.  His work has appeared in The Wall Street Journal, Esquire, GQ, and all the major food magazines. In 2015, he was inducted into the KCBS Barbecue Hall of Fame.
Raichlen founded Barbecue University®, now held at the Alisal Ranch in Solvang, California, and has lectured on this history of barbecue at institutions as diverse as Harvard, the Library of Congress, and the Smithsonian Institution.  His latest venture is a series of Star Grill by Steven Raichlen restaurants on the Windstar cruise line.
Steven Raichlen holds a degree in French literature from Reed College in Portland, Oregon, and studied medieval cooking in Europe on a Watson Foundation Fellowship.  He was also awarded a Fulbright.  When not grilling, you'll find him at the helm of his sailboat, Barbacoa.   He and his wife, Barbara, live in Miami and Martha's Vineyard.  His websites are stevenraichlen.com and barbecuebible.com.
View Other Signature Experiences
Unbridled Retreat Fall 2023
October 22-25, 2023
WildWonder
October 1-4, 2023
BBQ Bootcamp: Around The World
October 15-17, 2023
2023 California Ranch Cookouts
Recurring
Unbridled Retreat Fall 2023
October 22-25, 2023
WildWonder
October 1-4, 2023
BBQ Bootcamp: Around The World
October 15-17, 2023
2023 California Ranch Cookouts
Recurring
Unbridled Retreat Fall 2023
October 22-25, 2023
WildWonder
October 1-4, 2023
BBQ Bootcamp: Around The World
October 15-17, 2023
2023 California Ranch Cookouts
Recurring
The spirit of adventure.
At Alisal Ranch, we believe that true hospitality comes straight from the heart— and want you to feel a warm welcome throughout your stay. Our serene Western-style accommodations offer casual and comfortable luxury, designed to help you unwind and relax.
Book Now
- Link opens in a new window
Subscribe to our newsletter
Stay in touch with Alisal Ranch.
Sign up to hear the latest on special offers, news, and events happening at Alisal Ranch.