RECIPES
Grilled Angel Food Cake
Grilled Angel Food Cake with Roasted Huckleberries and Lemon Mascarpone Cream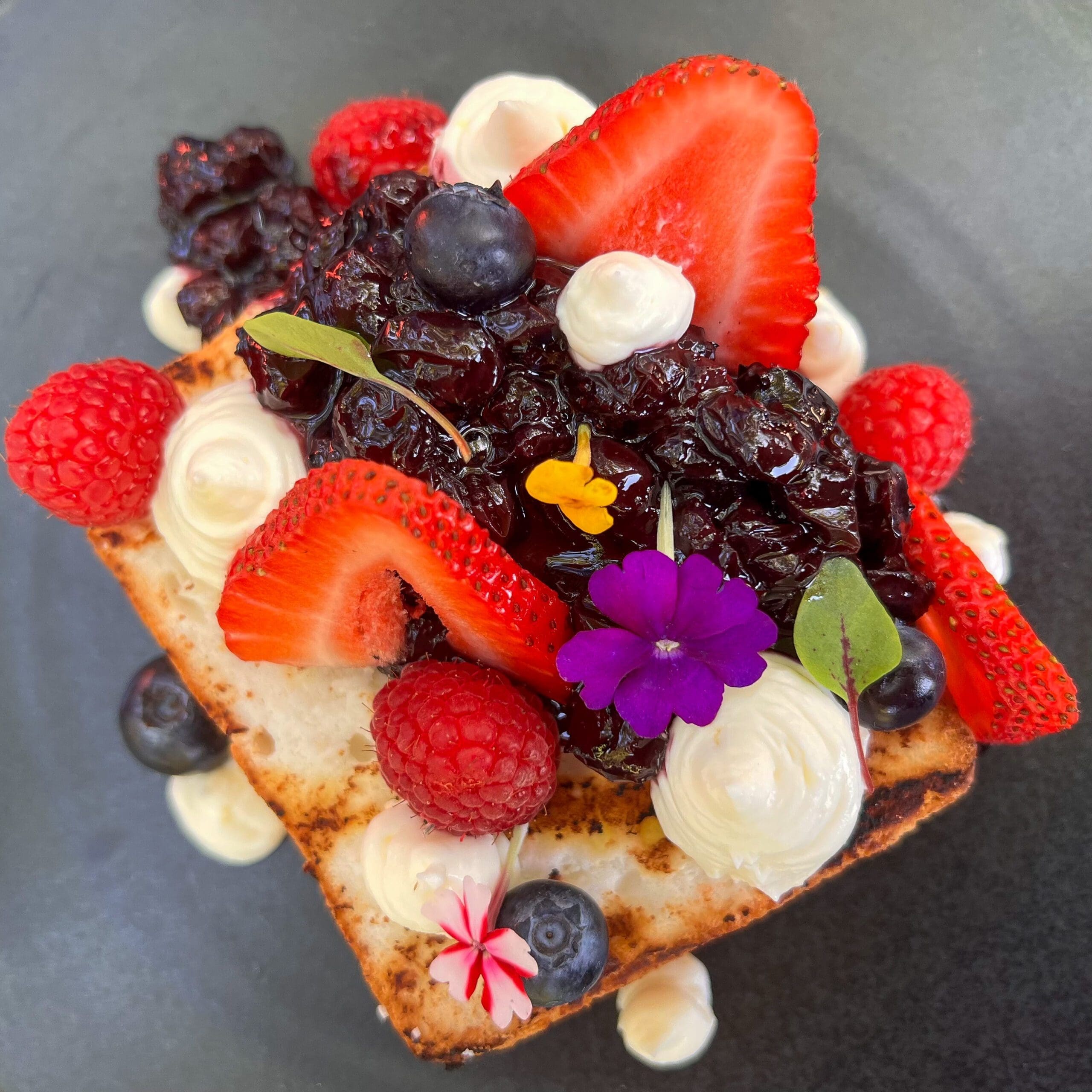 Roasted Huckleberry Compote Recipe
Ingredients:
– 2 cups fresh huckleberries
– 1/4 cup honey
– 1/4 cup fresh orange juice
– 1 tsp Madagascar vanilla extract
– 1/4 tsp cinnamon
– A pinch of salt
Instructions:
1. Preheat your oven to 375°F (190°C).
2. Rinse the huckleberries and spread them in a single layer on a baking sheet.
3. Drizzle honey over the berries and sprinkle with cinnamon and salt.
4. Roast the huckleberries in the oven for about 15-20 minutes, or until they start to burst and release their juices.
5. Remove the huckleberries from the oven and transfer them to a saucepan.
6. Add fresh orange juice and vanilla extract to the saucepan and stir to combine.
7. Bring the mixture to a simmer over low heat and cook for 5-10 minutes, or until the compote thickens slightly.
8. Remove from heat and let the compote cool before serving.
9. Store any unused compote in an airtight container in the refrigerator for up to 1 week.
Lemon Mascarpone Cream:
Ingredients:
– 1 cup mascarpone cheese
– 1/2 cup heavy cream
– 1/2 cup powdered sugar
– 1 tablespoon lemon zest
– 2 tablespoons freshly squeezed lemon juice
Instructions:
1. In a large mixing bowl, combine the mascarpone cheese and heavy cream. Whisk the mixture with an electric mixer on medium speed until it reaches a smooth and creamy texture.
2. Gradually add the powdered sugar, lemon zest, and freshly squeezed lemon juice to the bowl. Beat the mixture on low speed until the sugar is fully incorporated.
3. Increase the speed to medium and continue to beat for 1-2 minutes until the mixture transforms into a light and fluffy texture, bursting with tangy lemon flavor.
4. Savor the luscious taste of the lemon mascarpone cream, and adjust the sweetness or tartness to your liking by adding more powdered sugar or lemon juice as needed.
5. Use the cream immediately or store it in an airtight container in the refrigerator for up to three days.
Angel Food Cake Recipe
Ingredients:
– 1 cup of high-quality cake flour, sifted twice
– 1 1/2 cups of organic granulated sugar
– 12 large, free-range egg whites, at room temperature
– 1 tsp of organic cream of tartar
– 1/4 tsp of Himalayan pink salt
– 1 tsp of pure Madagascar vanilla extract
– 1/2 tsp of organic almond extract
Baking Instructions:
1. Preheat your oven to 350°F (175°C).
2. Sift the high-quality cake flour and 3/4 cup of the organic granulated sugar together twice. Set aside.
3. In a large mixing bowl, beat the large, free-range egg whites on medium speed until frothy.
4. Add the organic cream of tartar and Himalayan pink salt, and continue to beat on medium speed until soft peaks form.
5. Gradually add in the remaining 3/4 cup of organic granulated sugar, 1 tablespoon at a time, while continuing to beat on medium speed.
6. Increase the speed to high and beat until stiff peaks form.
7. Add the pure Madagascar vanilla and organic almond extracts and beat for a few seconds until combined.
8. Using a spatula, gently fold in the sifted high-quality cake flour mixture in three parts, being careful not to deflate the egg whites.
9. Pour the batter into an ungreased angel food cake pan and smooth out the top with a spatula.
10. Bake for 35-40 minutes, or until a toothpick inserted into the center of the cake comes out clean.
11. Remove the cake from the oven and invert the pan onto a wire rack to cool completely.
12. Once cooled, run a knife around the edges of the pan and remove the cake from the pan.
Grilling Instructions:
1. Preheat your grill to medium-high heat.
2. Cut the angel food cake into 1-inch thick slices and brush both sides with melted butter.
3. Grill the cake slices for 2-3 minutes per side, or until grill marks appear and the cake is slightly toasted.
4. Remove from the grill and set aside.
5. To achieve a smokey flavor without a Santa Maria Style wood fired grill, add a few wood chips to a foil packet and poke some holes in it. Place the packet directly on the grill grates and let it smoke for a few minutes before grilling the cake slices.
6. Once the cake slices are grilled, assemble the dessert as directed in the original recipe. Enjoy the delicious smokey flavor!
To Assemble:
1. Take a plate and place a slice of grilled angel food cake on it.
2. Using a spoon, generously spread the lemon mascarpone cream on top of the cake.
3. Pour a spoonful of roasted huckleberry sauce over the cream and add some sliced fresh strawberries.
4. Repeat the process until all the cake slices are used up.
5. Serve immediately and enjoy the flavors!
Enjoy!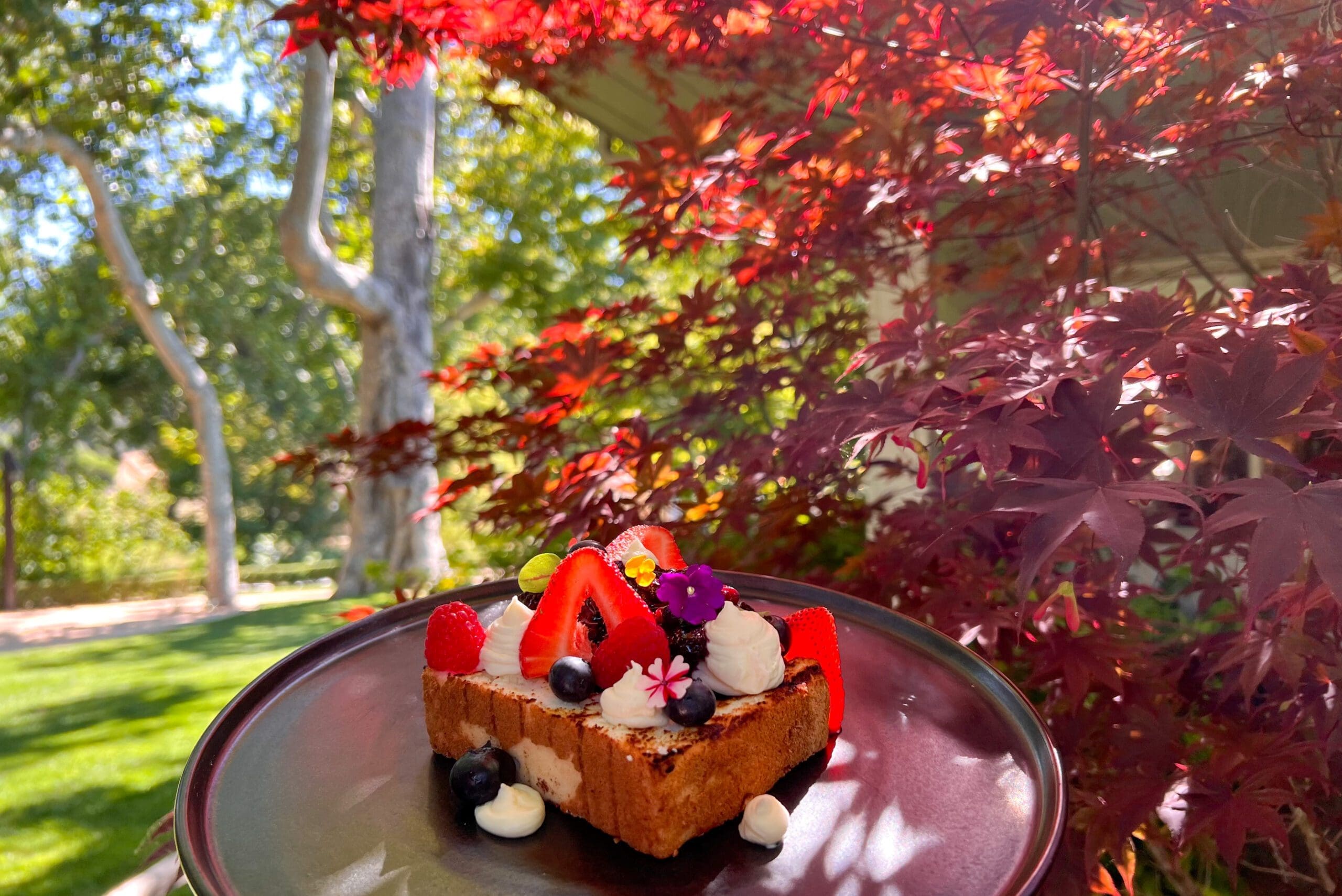 Stay in touch with Alisal Ranch.
Sign up for our newsletter to stay in touch with Alisal Ranch for special offers, news, and the latest on all of our Ranch friends.
you may also like...
Shishito Peppers with Chickpea Miso Aioli Dipping Sauce 
Grilled local shishito peppers for the perfect summertime appetizer.
Smoke and Fire Mezcal Margarita
A fiery, yet refreshing summertime cocktail.
Chicken Tortilla Soup
Inside tip: a guest favorite, our Chicken Tortilla Soup has been offered at the Ranch for 32 years and, while you won't see it on our new menu, it is available by request. Can't make it to the Ranch? Now you can make it at home with our signature recipe.
Subscribe to our newsletter
Stay in touch with Alisal Ranch.
Sign up to hear the latest on special offers, news, and events happening at Alisal Ranch.