Chris Devaux: Pickleball At Alisal Ranch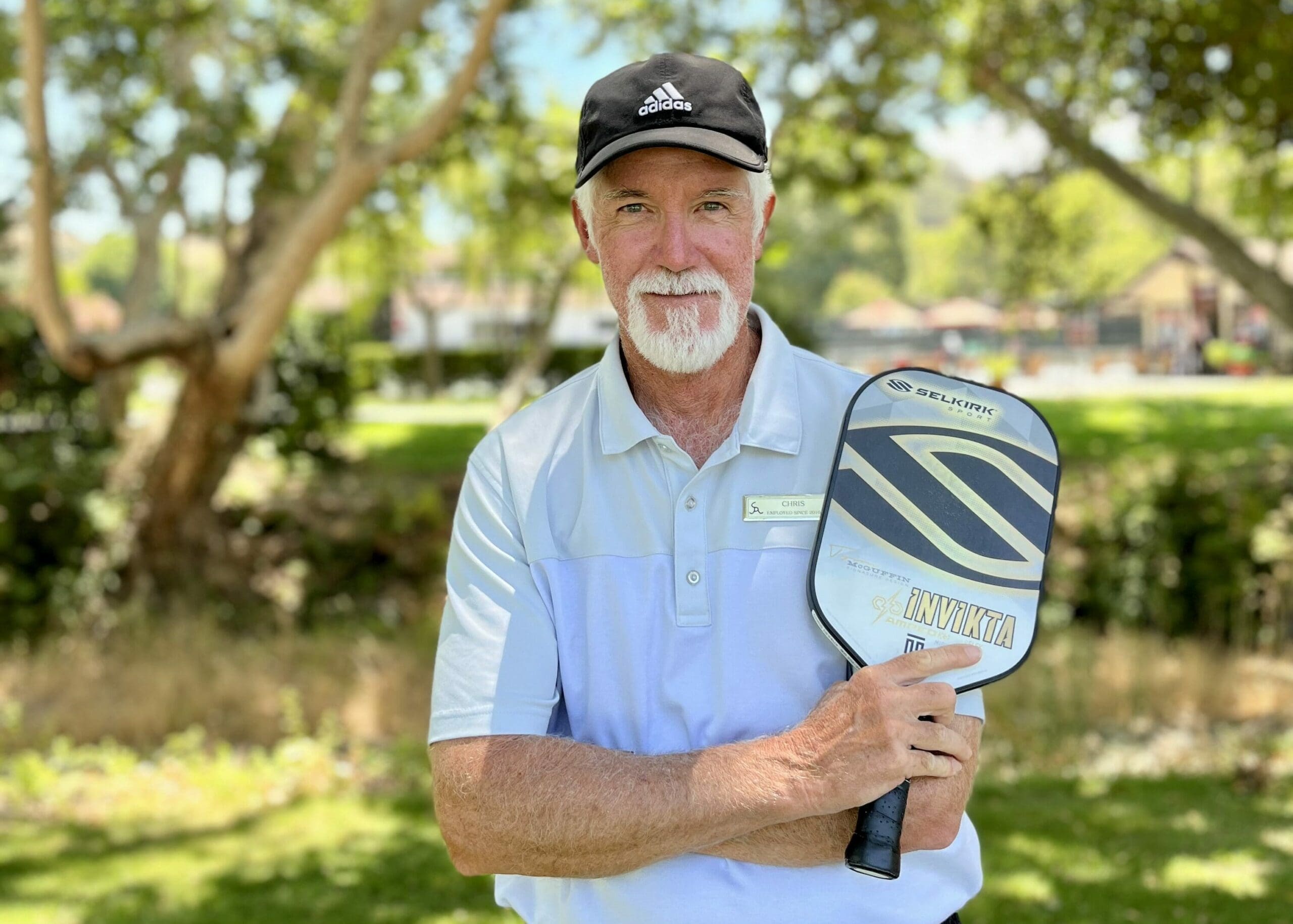 Over the last few years, pickleball has become the hottest new sport and it doesn't show any signs of stopping. As the fastest growing sport in the country, nearly 5 million people play pickleball and Chris Devaux is one of them. As Alisal Ranch's tennis and pickleball instructor, Devaux knew three years ago that pickleball was here to stay.
"I went down to Seal Beach and took a course in becoming an instructor," explains Devaux. "When I came back [to the Ranch] we ended up putting up temporary lines for pickleball in one of the tennis courts. We lined two courts but kept the tennis lines as well so they could be used for either sport. By March 2022, we had the court resurfaced and make it into four pickleball courts. Court #4 is now for pickleball. We have 44 pickleball members as of last year."
In addition to the membership, pickleball is available to guests staying at Alisal Ranch. Guests can reserve a court if they know how to play or they can come into one of the Ranch's three weekly adult beginner clinics on Tuesday, Thursday and Saturday from 3:30-4:30pm (and sometimes run a little longer if Chris is not needed elsewhere). Clinics are limited to about 8 people to have an even amount of people for both games (i.e. two side-by-side courts). The first 45 minutes are on one court where guests learn the game rules and techniques. Towards the end of the clinic, guests will play one or two games using both courts.
One of the best aspects to pickleball, says Devaux, it's a short learning curve. "It's pretty quick to pick it up with our beginner clinics at Alisal Ranch. In one hour, I can have them playing the game and having a good time."
Devaux says pickleball sometimes gets a bad rap as being a sport for older folks but he sees people from all ages enjoy the sport. "There is this idea that the game is much easier than tennis and for old people who can't play tennis anymore and they are half right. Most people who play pickleball play doubles. There is a singles game but it's very energetic; you're covering the entire court by yourself. The ball—a plastic whiffleball—stays lower so you have to get down there and hit the ball. I laugh when people say it's for old people because they obviously have not played it. The game is a good workout." Devaux loves the sport so much that he plays in his local neighborhood when he's not on the Ranch.
"It caters to family better than other sports because the learning curve is so short; it's a great equalizer as far as age and ability goes. I've played peopled in their 80s and early 90s that make me look silly out there. They hold their own against much younger players so it's something people of different ability levels can do together and still have a great time."
About Pickleball
According to Wikipedia, pickleball was invented in 1965 in Bainbridge Island off the coast of Washington state by a man who made the game with things he had around the house. He used an old volleyball net and made paddles out of plywood in his garage. He used whiffle balls because his young children played whiffleball.
The game is played on a court that is a quarter of the size of a tennis court. This is convenient for areas where space is limited because you can have 4 pickleball courts in the space of one tennis court which allows for sixteen pickleball players instead of two to four tennis players in the same amount of space.
The game is pretty simple as Devaux describes it. "The serving team is the only team that can get points. The returning team is trying to get the serve back so they can start getting points. Both players get an opportunity to serve until you lose a point and then it goes to the other team (each partner on a team in a doubles match). To win, be the first one to get to 11 points but you have to win by 2 points. One team has to win by 2 points for the thing to be over. Tournaments are usually the best of 3 games. Teams switch sides for the next games and then switch again and play a third game. If one team wins the first two games, it's over."
Wondering what to wear? Fortunately, there is no need to go shopping for a new pickleball outfit. Pickleball players wear the same outfits as tennis players. "You'll see "pickleball" shoes online that are just tennis shoes relabeled for pickleball," explains Devaux. "It's important to wear tennis shoes to allow for side-to-side movements. Wear what you would wear to play tennis or racketball."
Pickleball at Alisal Ranch
When asked why Alisal Ranch's pickleball courts are special, Devraux replies: "There aren't very many courts around, at this point. We have staff here all the time and supplies in the shop (e.g. paddles, balls, tennis shoes). It's handy to have a fully-stocked shop nearby. There's food on the ranch for folks to pick up or they can bring their own and have lunch or a snack. We keep the court clean and have groups to play with between members and guests on Tuesday and Thursday mornings from 8:30 a.m. to 10:30 a.m. (occasionally have guests join members who already know how to play). Courts are also available to reserve for private games.
Call Ranch Concierge to join a clinic or reserve a court or a private lesson. Pickleball is a great opportunity for groups or families that want to learn a new sport together.
Stay in touch with Alisal Ranch.
Sign up for our newsletter to stay in touch with Alisal Ranch for special offers, news, and the latest on all of our Ranch friends.
you may also like...
November 3, 2023
Santa Ynez Valley 2023: A Holiday Celebration Guide
From unique holiday markets to fun parades, we've got your guide to an unforgettable season in beautiful Santa Ynez Valley.
August 23, 2023
Celebrating Local & Ranch Events this Fall
Visit this fall to experience ranch events like BBQ Bootcamp and Wildwonder or stay at Alisal Ranch and explore local wineries and festivals.
April 1, 2023
Meet Brandon: Director of Equine Operations
Meet our new Director of Equine, Brandon, and learn about our new riding programs.
Subscribe to our newsletter
Stay in touch with Alisal Ranch.
Sign up to hear the latest on special offers, news, and events happening at Alisal Ranch.