RECIPES
Shishito Peppers with Chickpea Miso Aioli Dipping Sauce 
Shishito Peppers with Chickpea Miso Aioli Dipping Sauce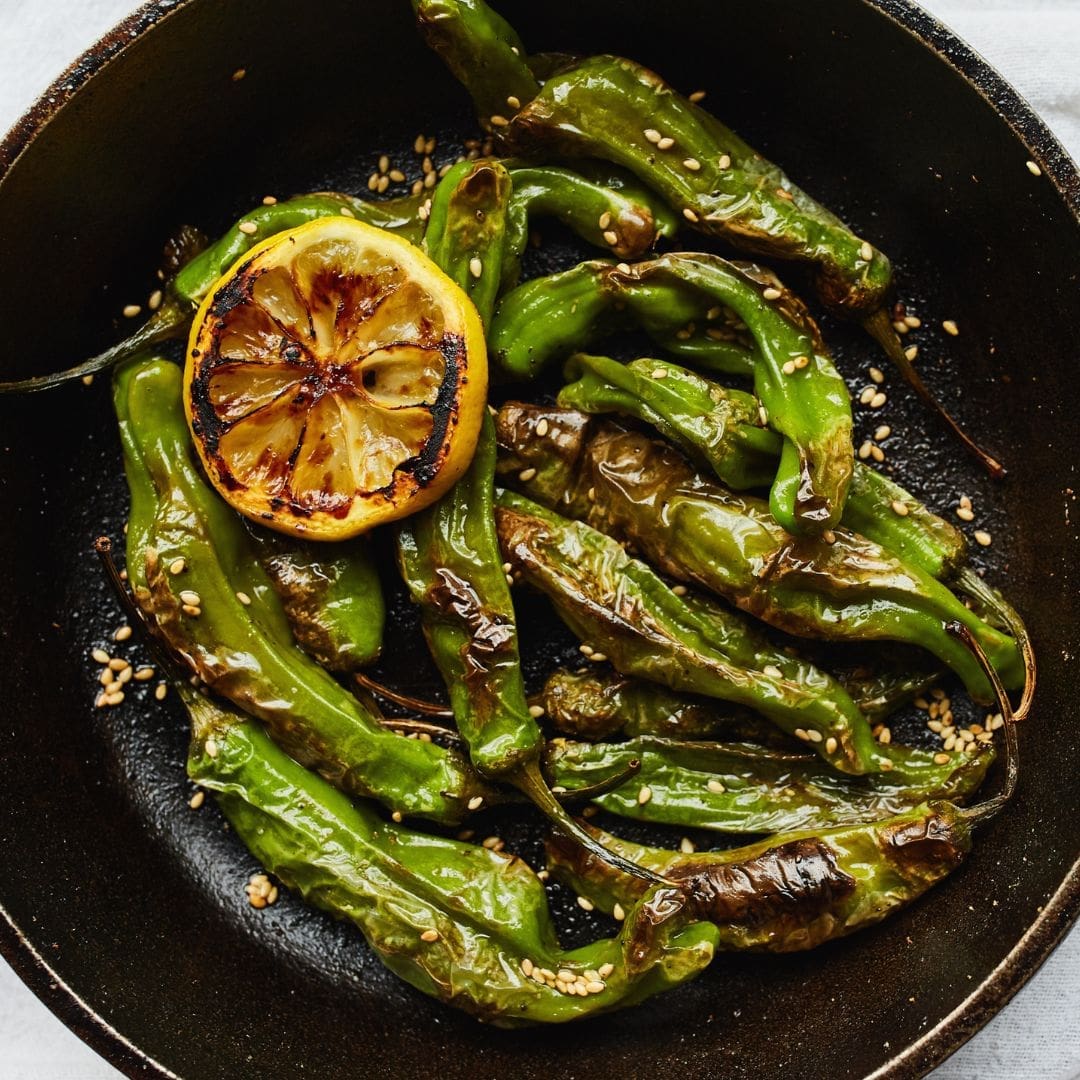 Ingredients:
– 1 pound fresh shishito peppers
– 1 tablespoon high-quality olive oil
– A pinch of sea salt
– 2 tablespoons tamari (or soy sauce)
– 2 tablespoons lemon juice
– 2 tablespoons vegan Miyoko's butter
– Optional: Sesame seeds for garnish
Instructions:
Preheat the grill to medium-high heat.
Rinse the shishito peppers and pat them dry.
In a large bowl, coat the peppers evenly with olive oil.
Sprinkle the peppers with sea salt.
Place the peppers on the grill grates, ensuring they are well-spaced.
Grill the peppers for approximately 3-4 minutes per side until they develop a charred and blistered appearance.
In a small bowl, combine the tamari & lemon juice with melted butter (keep warm)
Remove the peppers from the grill and transfer them to a serving dish.
Drizzle the tamari-lemon juice mixture over the hot peppers, ensuring even coverage.
If desired, sprinkle the grilled peppers with sesame seeds for added flavor and visual appeal.
Serve the deglazed grilled shishito peppers immediately as an appetizer or side dish.
Chickpea Miso Aioli 
Ingredients:
– 2 cups of vegan mayonnaise (Veganaise)
– 2.5 tablespoons of tamari
– 2 tablespoons of sriracha
– 1 tablespoon of lemon juice
– 1 tablespoon of chickpea miso
– 0.5 tablespoons of finely chopped cilantro
– 0.5 tablespoons of finely chopped chives
– 1 tablespoon of korean chili flakes
Instructions:
In a small mixing bowl, combine the vegan mayonnaise ( veganaise ), tamari, sriracha, lemon juice, and chickpea miso. Mix well until all the ingredients are fully incorporated.
Add the finely chopped cilantro, chives, and korean chili flakes to the mixture. Stir until the herbs and chili flakes are evenly distributed throughout the aioli.
Taste the aioli and adjust the seasoning if needed. You can add more tamari, sriracha, or lemon juice according to your preference.
Transfer the spicy vegan aioli to a jar or airtight container and refrigerate for at least 1 hour before serving. This will allow the flavors to meld together.
Serve the aioli as a dipping sauce for fries, vegetables, or use it as a spread for sandwiches, burgers, or wraps.
The spicy vegan aioli can be stored in the refrigerator for up to 1 week.
Experience the delightful flavors of these grilled shishito peppers, enhanced with the perfect balance of tamari, lemon juice, and vegan butter. The peppers' smoky aroma, charred exterior, and tender interior create a harmonious blend of textures and tastes that will impress your guests.
Stay in touch with Alisal Ranch.
Sign up for our newsletter to stay in touch with Alisal Ranch for special offers, news, and the latest on all of our Ranch friends.
you may also like...
Grilled Angel Food Cake
The perfect dessert for your 4th of July Summer BBQ with red, white, and blue berries.
Smoke and Fire Mezcal Margarita
A fiery, yet refreshing summertime cocktail.
Chicken Tortilla Soup
Inside tip: a guest favorite, our Chicken Tortilla Soup has been offered at the Ranch for 32 years and, while you won't see it on our new menu, it is available by request. Can't make it to the Ranch? Now you can make it at home with our signature recipe.
Subscribe to our newsletter
Stay in touch with Alisal Ranch.
Sign up to hear the latest on special offers, news, and events happening at Alisal Ranch.