Valerie Rice: My History At Alisal Ranch
Featuring a Special Recipe Inspired By My Childhood at the Ranch
Since I was 8 years old, Labor Day weekend meant one thing to our family: Alisal Ranch. If it wasn't for my dad and his love of beautiful places, great golf courses, and being with his family—three things that the Alisal brought to him in spades—we never would have started such an amazing tradition. When our car pulled into the sycamore-lined lane, my Labor Day weekend Ranch pals would be waiting for me on the fence. I'm not even sure my dad had stopped the car before I jumped out to meet them and run off to claim the Ping-Pong table and an Alisal Special, cartwheeling through the entire span of the lawn as we went. Those summer days forged close friendships grounded in a lifetime of Labor Days that exist to this day.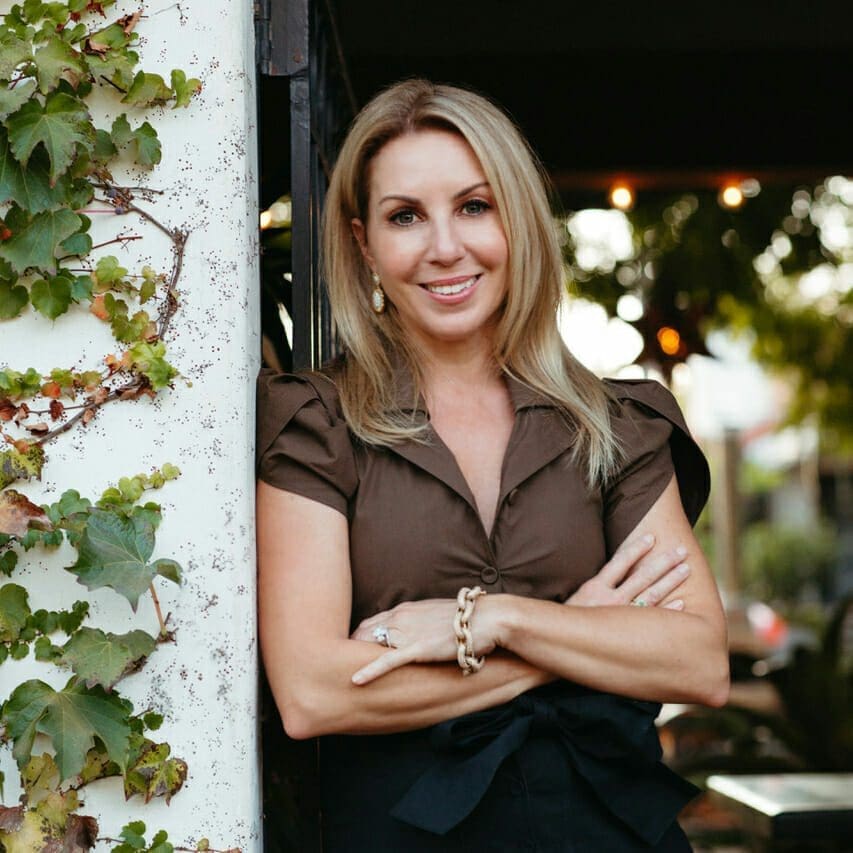 A deep love of the area developed in my bones during these visits and what I credit with making Santa Barbara my home in adulthood. The yellow hills spotted with oaks dripping with Spanish moss, combined with
the dry ranch air and the smells–a mixture of dusty earth, green grass, blossoming myrtle, and horse (since those Esprit-clad days I have learned that "horsey" is also a description for revered wines) bring me calm in a way that no other place in the world can.
Alisal Ranch is a haven for kids and adults alike. Ageless exploration of activities and possibilities– while my parents golfed, we would try to jam in as many things as we could in one day — horseback riding, sailing at the lake (in our early years there was a regatta), pool time, shuffleboard and volleyball – you could always count on a 4pm volleyball game that welcomed any and all ages. As the golden hour approached, we would dash off for a much-needed shower, and then dinner followed by evening activities. The subsequent days were lather, rinse, repeat and the repetition just confirmed how much we loved the place. Many of the same families who booked Labor Day are still attending and the neatest part is the kids that I grew up with now have children who are friends with our teens.
As a parent, I realize it's the perfect combination of structure and freedom. I've traded my saddle in for golf clubs and my dad would be so proud while we play golf, my kids roam about enjoying the same freedoms I did!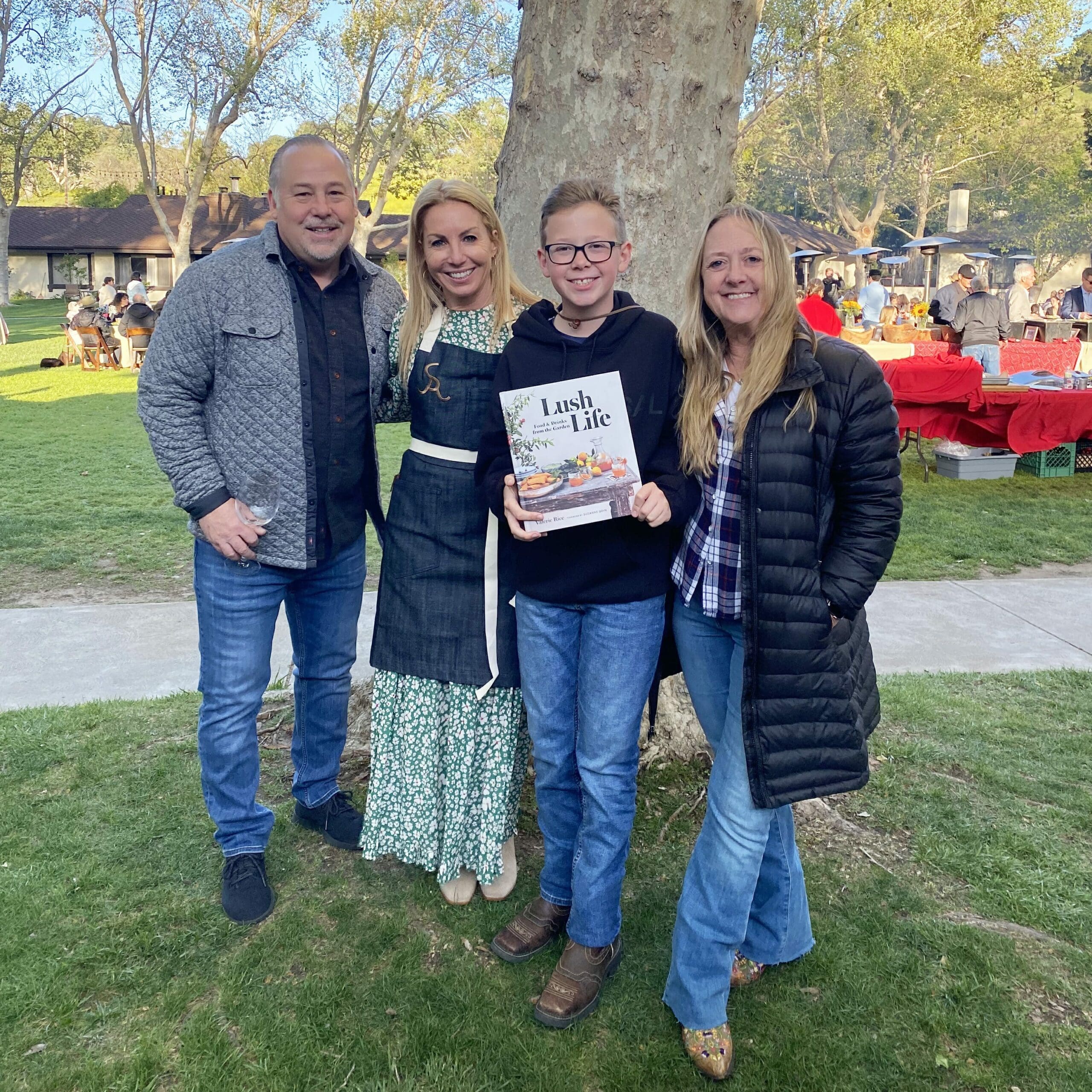 You can imagine my excitement (and a few nerves) when asked to be the guest chef to celebrate my first cookbook, Lush Life, at a spring cookout this year. I know that BBQ like the back of my hand.   Watching it morph through the years I knew my Santa Barbara seasonal style of cooking would fit right in alongside my favorites including the corn and jalapeño muffins, the grilled lobster tails, and of course the
incredible Portuguese sausages. Being the guest chef for the Easter week barbecue was a pinch-me moment.  I knew the event so well, and yet I was a little intimidated too– because it meant so much to be sharing my food with other Alisal guests.
An explosion of yellow mustard covered the hillside and inspired a menu from the spring chapter in my book.  Chef Anthony and Chef Lee made it so easy for me to share my Santa Barbara home-styled recipes with more than 150 of their guests.  I knew our hero dish had to be the Tri-Tip, the triangular cut of meat from the bottom of the sirloin, and a Central Coast specialty.  My first bites of Tri-Tip were at the ranch as a kid, and we did it just the same–wood-grilled on the heavy iron grates fabricated just down the road in Santa Maria.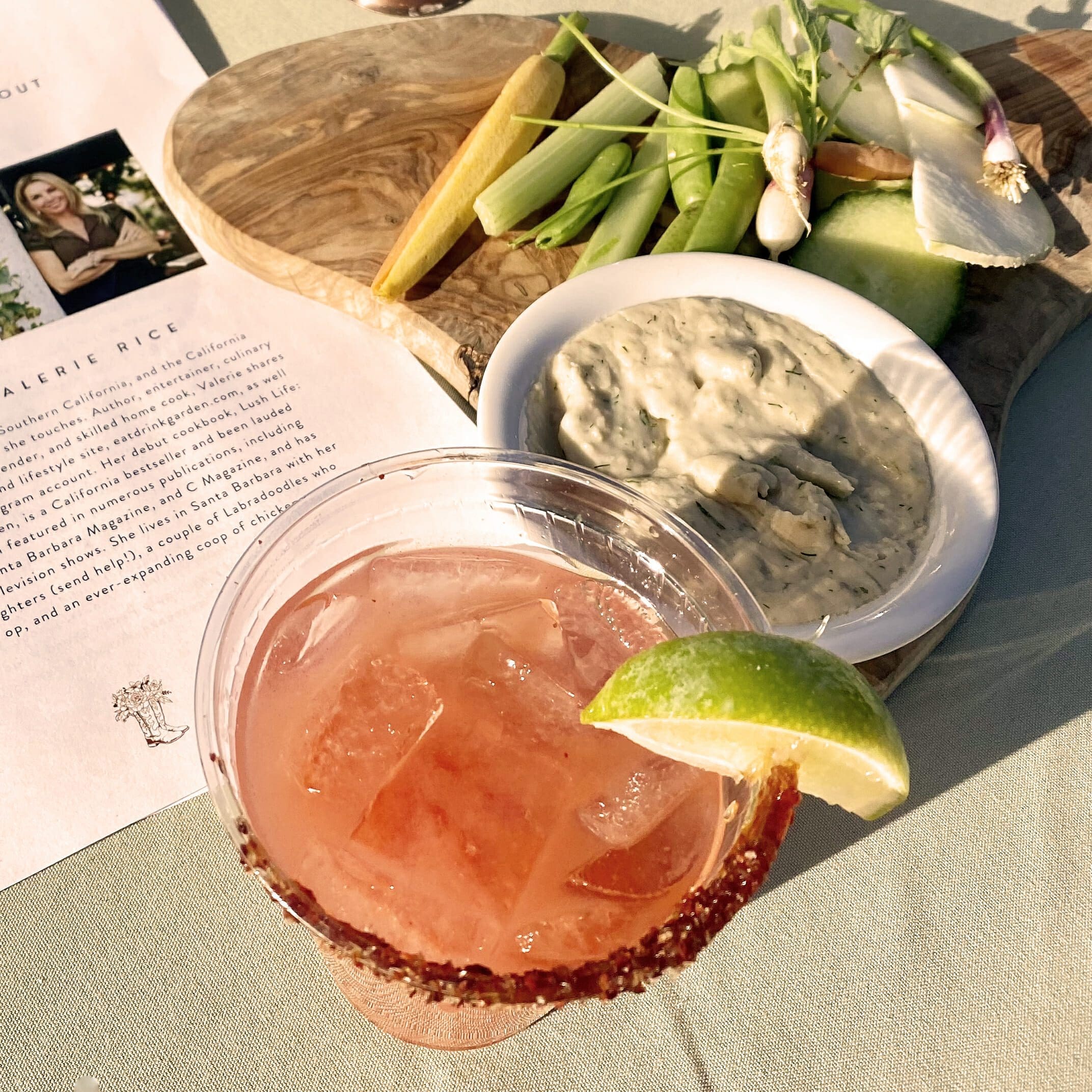 For the rest of the menu, I chose to showcase not only the early spring produce of the season, but also a few more of my favorite Santa Barbara All-Star ingredients. I added a Leg of Lamb roasted perfectly over the open wood fire, and served California Halibut, Grilled Mushrooms, a mustardy potato salad, Little Gems with my fave herby vegan Goddess dressing, and two knock-out desserts. I was also thrilled that we could set every table with my signature crudités and dips and serve the adult guests with two of my favorite cocktails—a Salty Dog and Strawberry Mezcal Margarita—the best way to begin any evening IMHO.
Even though my father is no longer with us, we keep his tradition alive, faithfully visiting every Labor Day to reconnect with our extended Alisal OG Labor Day family. Being at "The Ranch," as my dad called it, reminds me how much he is truly around us and I know how proud he would be, beaming in his brown suede jacket at the check-lined table, to see me as a featured chef at the Cookout. My sister and my niece joined me and, even though I was surrounded by a totally new spring landscape, I really felt like I was home.
Recipe
Orange-Marinated Tri-Tip with Chimichurri & Padrón Peppers
Nothing could get more California than citrus-marinated tri-tip. This triangular cut of meat from the bottom sirloin is a Central Coast specialty, and it's on regular rotation at our house during barbecue season—especially when we have guests from Europe or the East Coast. For the best flavor, seek out a well-marbled roast.
Padrón peppers are similar to shishitos but with more flavor and a tad more heat. Both grow in a bush-like fashion and often need a bamboo support to hold up the mass of leaves and yield. As it happens in the summer when you have a garden and travel plans, some things get ignored and become overripe. This is how I discovered how delicious padrón and shishito peppers are when you leave them to get red. They become sweeter as they
mature—I wish that were the case for all of us. On their own, they can be served as a simple summer appetizer.
BEEF
2 pounds trimmed well-marbled tri-tip
½ cup fresh orange juice (from 2 oranges)
¼ cup soy sauce
¼ cup olive oil
½ onion, sliced
4 garlic cloves, smashed
½ teaspoon dried red chile flakes
PADRÓN PEPPERS
2 tablespoons grapeseed oil
20 padrón or shishito peppers
½ teaspoon flaky sea salt
½ teaspoon sumac (see Spice Drawer, page 274)
Orange wedges (optional)
Chimichurri Sauce (see recipe below)
FOR BEEF: Combine tri-tip, orange juice, soy sauce, oil, onion, garlic, and chile flakes in a large resealable plastic bag. Refrigerate for at least 4 hours or overnight, turning the bag halfway through the marinating process.
Prepare the grill for direct and indirect cooking. Pat beef dry with paper towels and season with salt and pepper. Over direct heat, sear the fat side of the beef for 2 to 3 minutes to create some caramelization. Turn the beef over and place on indirect heat (you are basically using your grill like an oven at this point). Cover and continue to cook until an instant-read thermometer inserted into the center of the beef registers 120°F for rare or 130°F for medium rare, turning occasionally, 20 to 25 minutes. Let beef rest for 15 minutes.
FOR PEPPERS: While beef rests, prepare peppers. In a large skillet, heat oil on medium-high heat until hot. Add the peppers and sauté until they begin to blister, about 3 to 5 minutes. Add sea salt and sumac and toss to coat.
Thinly slice the meat perpendicular to the grain. Surround with peppers, oranges (if desired), and sauce.
Chimichurri Sauce
Makes about 1 1/4 cups
A wonderful accompaniment to any grilled protein or such simply prepared veggies as eggplant, zucchini, and potatoes.
½ cup extra-virgin olive oil
½ cup finely chopped cilantro with stems
¼ cup finely chopped Italian parsley
¼ cup sherry vinegar
2 green onions (white parts only), finely chopped
2 garlic cloves, minced
2 tablespoons finely chopped fresh oregano
1 teaspoon flaky sea salt
½ teaspoon dried red chile flakes
Mix all ingredients in a medium bowl. (Can be made 1 day ahead. Cover and refrigerate. Stir before serving)
Raj tells me… A light, fresh cab franc from Chinon is excellent with this dish; we like Catherine & Pierre Breton Chinon "Beaumont" from the Loire and Habit Cabernet Franc from Santa Ynez Valley.
Stay in touch with Alisal Ranch.
Sign up for our newsletter to stay in touch with Alisal Ranch for special offers, news, and the latest on all of our Ranch friends.
you may also like...
November 3, 2023
Santa Ynez Valley 2023: A Holiday Celebration Guide
From unique holiday markets to fun parades, we've got your guide to an unforgettable season in beautiful Santa Ynez Valley.
August 23, 2023
Celebrating Local & Ranch Events this Fall
Visit this fall to experience ranch events like BBQ Bootcamp and Wildwonder or stay at Alisal Ranch and explore local wineries and festivals.
April 1, 2023
Meet Brandon: Director of Equine Operations
Meet our new Director of Equine, Brandon, and learn about our new riding programs.
Subscribe to our newsletter
Stay in touch with Alisal Ranch.
Sign up to hear the latest on special offers, news, and events happening at Alisal Ranch.